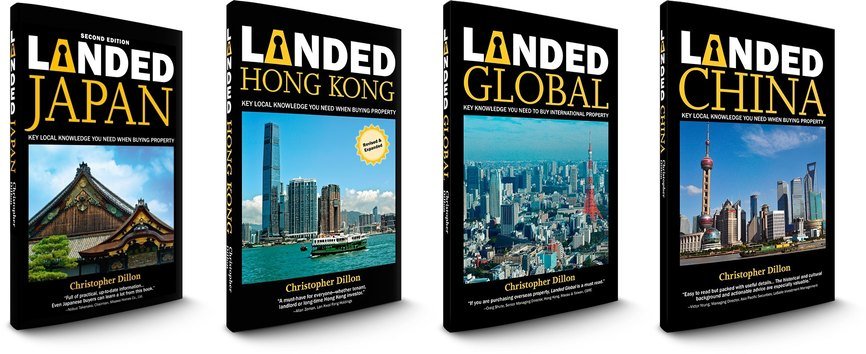 In 2002, I bought and renovated a floor in an office building in Hong Kong's Central business district. Since then, I've purchased and refurbished a luxury apartment on the west side of Hong Kong Island and transformed a derelict steam laundry into a multimedia studio. I began investing in Japanese real estate in 2010 and served on the management committee of a 210-unit apartment complex in Hong Kong from 2012 to 2021.
That experience inspired four books: Landed Hong Kong (2008), Landed Japan (2010), Landed China (2013) and Landed Global (2014). A second edition of Landed Hong Kong was published in 2015, and an expanded and revised edition of Landed Japan was released in 2018. Click here for a selection of book reviews and interviews.
Whether you're buying a family home, a ski chalet or an investment property, the Landed books will save you time, money and headaches.
The Landed books are available in print and Kindle editions from Amazon and in EPUB format from Kobo.
Email me to receive a free sample chapter from Landed Global.
---
In Landed Japan, you'll find:
Step-by-step instructions for buying new and preowned real estate
Case studies about building and buying new homes and purchasing repossessed, income and recreational properties
Information about Japan's mortgage, insurance and tax environments
Guidance for managing Japan-specific risks, including abandoned houses (akiya), asbestos and earthquakes
Resources to help you build, buy, maintain, manage and renovate your property
Extensive checklists for buyers
---
Click here for more articles about property in Japan.
---
"Landed is an essential reference for anyone buying real estate in Japan. It is unbiased and full of practical, up-to-date information. Even Japanese buyers can learn a lot from this book."
Nobuo Takenaka, Chairman, Misawa Homes Co., Ltd.
---
In Landed Hong Kong, you'll find:
Detailed explanations of how to buy Hong Kong homes, ranging from high-rise apartments to village houses
Case studies on renovating an apartment, an office and a flatted factory
Information about local laws and customs, including government land leases, management committees, the Heung Yee Kuk and the Small House Policy
Background on Hong Kong-specific risks including expropriation, statutory orders and unauthorized building works
Profiles of Hong Kong neighborhoods—from laid-back Lamma to exclusive Kowloon Tong
Details of how cemeteries, feng shui, lucky numbers, and murders and suicides affect Hong Kong property values
---
Click here for more articles about property in Hong Kong.
---
"Investing in property once you understand Hong Kong can provide handsome returns. Landed Hong Kong—written by a person who has done it himself—helps you keep your costs down, avoid pitfalls and recognize opportunities."
Paul Zimmerman, District Councillor, and CEO, Designing Hong Kong
---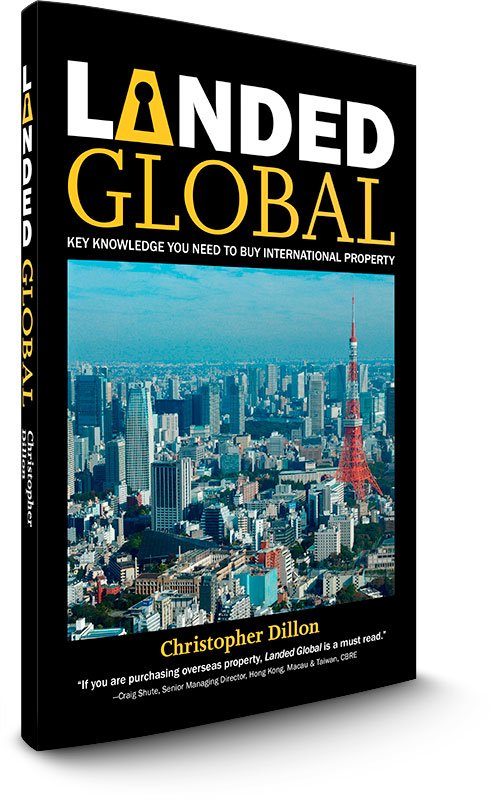 In Landed Global, you'll find:
Examples of how real estate is bought and sold in over 110 countries and territories
Case studies about foreigners buying homes in France, Ireland, Japan, Sri Lanka, Thailand and the United States with budgets of US$50,000 to $10 million
Opportunities—and risks—for international investors, including student housing, gentrification, distressed property and boomtown real estate
Tips for managing risks—from asbestos to meth labs and money laundering to fraud—when buying international property
Explanations of ownership structures, deeds registration and property rights
Tools to find lawyers, lenders, home inspectors and other essential service providers
---
Click here for more articles about international property.
---
"Landed Global is the single most comprehensive guide for buying a home abroad. Millions of miles of travel would not give you the wealth of knowledge in this book."
Jun Homma, Deputy Editor, Nikkei Real Estate Market Report
---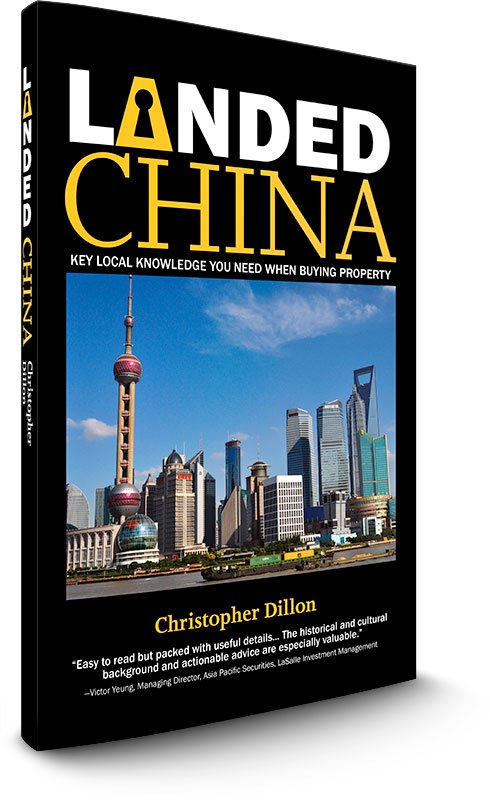 Landed China
Softcover
294 pages
155 × 217 mm
Published 2013
ISBN 978-988-17147-4-9
Buy from Amazon
In Landed China, you'll find:
Case studies about non-Chinese people who have successfully bought homes in Beijing, Guangzhou, Shanghai and Shenzhen
Information about mortgages, taxes and insurance in China
Explanations of property rights, land leases and residency requirements under Circular 171
Background on unique Chinese properties including siheyuan (courtyard homes), lilong townhouses and xinguan houses
Details of how the one-child policy, rural migration, chengzhongcun (urban villages) and defective construction affect real estate in China
A history of property in China: Pre-1949; under central planning; and during the period of liberalization that began in 1978
---
"Clearly written, yet comprehensive and bursting with detail… a terrific starting point on how to buy real estate in China."
Dan Harris, China Law Blog
* * *